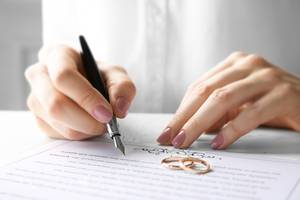 Couples who are entering a marriage should have the expectation of being open and honest with each other. It is important to have a full understanding of the property, assets, and debts that each spouse is bringing into the marriage, as well as how they would be handled in the case of a divorce. While no one gets married expecting a divorce, by preparing a prenuptial agreement, both spouses will be better prepared and better able to avoid future financial disagreements.
Issues Addressed in an Illinois Prenuptial Agreement
Prenuptial agreements can be a sensitive topic, but many couples recognize the potential benefits, especially if one or both of the spouses are entering the marriage with significant assets. The following are issues that can be addressed in a prenuptial agreement:
Identify non-marital property – During a divorce, one of the first steps is to decide which property and assets were jointly owned by the couple, known as marital property, and which is non-marital. Non-marital property is typically that which was acquired by each spouse before the marriage began. Having a prenuptial agreement in place can clearly identify these properties, which will save time and stress during a divorce.
...