1855 Rohlwing Road, Suite D
,
Rolling Meadows, IL 60008
What Happens If I Do Not Sign the Divorce Papers?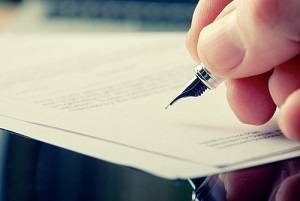 Some divorces follow years of marital turmoil. The marriage is over long before the couple takes steps to officially end the marriage. However, sometimes, being served with divorce papers comes as a complete shock. In some cases, the respondent in a divorce case is not even aware that his or her spouse wants to end the marriage. He or she may still believe the marriage is salvageable or that divorce is not the right solution.
If you were served with a divorce petition and you and not ready to end your marriage, you may wonder if you can simply refuse to respond to the divorce petition.
Failure to Respond to a Petition for Dissolution of Marriage
Illinois spouses who are served with divorce papers are also served with a summons requiring them to respond to the divorce petition. The respondent is asked to file a written appearance and response within 30 days. The appearance provides official notice to the petitioner and the court that the respondent wishes to be involved in the divorce process. Filing an appearance is the first step in participating in decisions about marital property and debt, child custody, and spousal maintenance.
If a respondent fails to file an appearance, he or she is essentially forfeiting his or her right to participate in the divorce case. If the 30-day period passes and the respondent has not responded to the divorce petition, the petitioner may then file a motion to hold the petitioner in default.
Default Divorce in Illinois
If a respondent does not respond to a divorce petition in time, the case may proceed without him or her. The judge will base any decision about asset division, parenting time, or other divorce issues on what the petitioner is asking for (with some exceptions). This is called a default.
If the court enters a default judgment against a spouse and he or she wants to have a say in the outcome of the divorce case, the spouse can file a form asking to court to vacate the default judgment. However, the motion to vacate the default judgment must be filed within 30 days of the entry of the default judgment.
Contact a Rolling Meadows Divorce Lawyer
Failing to respond to a divorce petition removes your right to have a say in the outcome of your divorce. You may end up bound to property division or child custody terms that you do not agree with. For legal advice and support specific to your unique situation, contact Arlington Heights divorce attorney Donald J. Cosley. Call the Law Offices of Donald J. Cosley at 847-253-3100 for a free, confidential consultation.
Source:
https://www.cookcountycourt.org/ABOUT-THE-COURT/County-Department/Domestic-Relations-Division/For-People-Without-Lawyers/Filing-and-Answering-a-Divorce-Petition